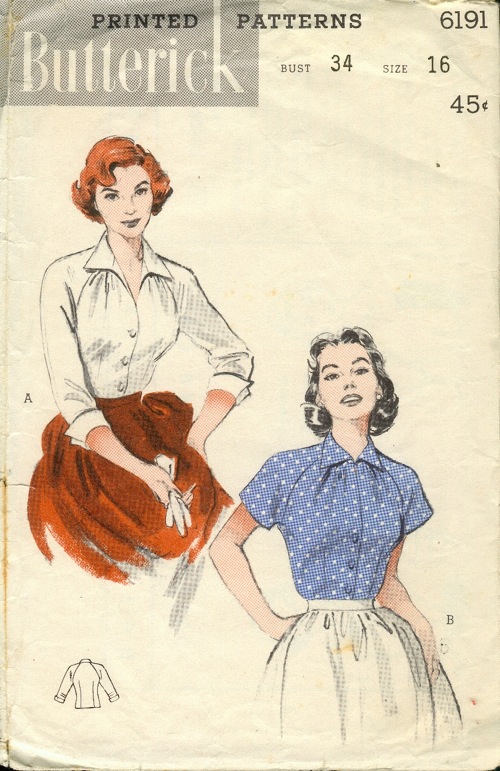 Vintage patterns wikia - Butterick 6191

Pros: raglan sleeves, nice and breezy for a humid summer and I hate setting in sleeves!
Cons: Will it look any good on someone whose waist is wider than their hand span? I don't have a skirt to go with it and it definitely can't be a massively full one as shown in the picture. Some people can rock the puffy skirts but I am not one of them.

I traced the pattern and made two minor adjustments– allowing for an extra inch in the waist and two for the hips. After making it up quickly in calico, I discovered more pros. The calico was quite stiff and un-drapey (not actually a word but it should be). Even so, the gathers, shoulder darts and loose sleeves sat well. So I think it would look good made up in the white linen I have in stash. Even better, I don't need the shoulder pads that the pattern called for. I seem to be naturally gifted in the shoulder area.

My troubles began, though, not with the pattern but with a phobia of cutting into fabrics that I really like. So I decided to do a version in a fabric I was ambivalent about. The fabric is a fine red and white check. I bought it because it was cheap and because I nearly always wear blue, green or black. Occasionally I get this inexplicable yearning for red that overrides the uneasy feeling that the colour doesn't suit me. I also bought this fabric online so I had no idea about its texture and other properties. I was a little worried about the fabric being poly-viscose. Mainly because I feared a sticky sweaty non-breathable fabric. A quick google indicated that poly-viscose can be quite comfortable to wear in hot conditions.

And certainly the fabric feels nice and breathable against my skin with a kind of seersucker textured feel. It was, however, a complete nightmare to sew. . It seemed to have a life of its own. It wriggled! It moved, stretched and changed shape at the slightest provocation, mainly in the cross-wise direction. Every seam needed tacking (basting). It may be the first fabric where I have had to unpick my own tacking twice on the same seam. Sewing the darts was horrible. I used magic tape and tacking to mark and hold them in place before I could sew them. I interfaced the collar and cuffs with fusible interfacing before cutting them out. I've never had to do that before. To make matters worse, the fabric was impervious to tailor's chalk while my UV-fade pen bled into giant purple UV-resistant blotches. Fortunately it washed out. I learned how to use tailor's tacks.

After weeks of struggle, I think it is testimony to how nice this blouse pattern is that I am actually happy with the result made in such a troublesome fabric. I was even inspired to follow the pattern instructions and do hand-bound button holes for the very first time.

Here is a quick snap of my dress-model, Brian, wearing my blouse during a busy day at the office:



Brian is well padded with towels to imitate my waist and hips which are 1-2 inches bigger than a 1950s size 16 and a whole lot bigger than the incy-wincy waists indicated on the pattern envelope. The black camisole underneath is not a good look but that helps keep Brian's towels in place.

Things to do (or do better next time):

1. Next time consider heavier interfacing on the gauntlet cuffs. They are a touch floppy.
2. I can only get better at hand bound button holes. Really enjoyed doing them though – except when I accidentally did blanket stitch. They're not a lot of fun to unpick.
3. Make a skirt with a waistband that sits nicely below the third button (as in the pattern picture).
4. Wear the blouse and (soon to be completed) skirt myself, and get a decent photo of it.
5. Cut into my beloved white linen and make the blouse again.
6. I still have a few metres of disobedient wriggly fabric left. What would you do? How do you deal with fabric that feels nice but is prone to shape-changing?